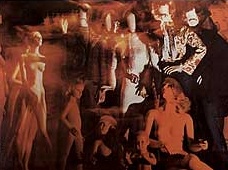 as you entered you heard:
In Her Mind from the
Eclection album
our original webpage
singing with The Dave's Place Group
forty -one years have now passed
since Dave Guard (ex-Kingston Trio)
hosted his own weekly television
musical program. Dave's Place
was produced in Australia during
Dave's five-year period of residence
down under. Sadly, only two other
countries besides Australia ever got
to see the program, which chronicled
a lost chapter in Dave Guard's eventful
and ever-changing musical career.
Kerrilee Male was apart of that chapter